*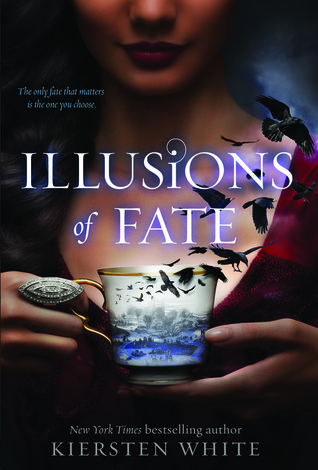 *I Received this book free from HarperTeen via Edelweiss in exchange for an honest review. This does not affect my opinion of the book or the content of my review.**
*Synopsis*
"I did my best to keep you from crossing paths with this world. And I shall do my best to protect you now that you have."
Jessamin has been an outcast since she moved from her island home of Melei to the dreary country of Albion. Everything changes when she meets Finn, a gorgeous, enigmatic young lord who introduces her to the secret world of Albion's nobility, a world that has everything Jessamin doesn't—power, money, status…and magic. But Finn has secrets of his own, dangerous secrets that the vicious Lord Downpike will do anything to possess. Unless Jessamin, armed only with her wits and her determination, can stop him.
*My Review*
Illusions of Fate
is a standalone, young adult fantasy novel, with romance, set in an alternative reality that emulates 19th century Victorian England. The story is set against a backdrop where highborn are magically talented, while low born, and natives are not. The story is told through the eyes of Jessamin Olea who ends up getting more than she bargains for after meeting the mysterious and magically powerful Finn Ackerly.
Jessamin (age unknown) travels from the island of Melei, where the rich Albens go to play and leave behind illegitimate babies, to Albion to order to enhance her studies and change her future. She finds that she's an outcast among an Alben society that values the use of magic, and looks down on people who are different. Since Jessamin has exotic looks and a dark skin complexion that stands out among the Albens she studies next to, she is constantly teased and bullied by fellow students.
That doesn't stop Jessa from going above and beyond just to prove that she belongs. She's smart, she's quick to excel at her studies, she works in a hotel, she has enough backbone to stand up to her apparent father in order to get into the school, and she isn't all that impressed when she first meets Nineteen year old Finn. The same Finn who is in a battle of wits with the dastardly Lord Downpike, which puts Jessamin right in the middle of a dangerous game where the consequences are deadly.
I like that Illusions of Fate is a standalone and not part of a series. The story was quick paced, the plot and mystery wrapped pretty nicely, and the secondary characters weren't plastic, or a waste of space and time. I had already guessed part of the mystery before it was revealed at the end of the book, and wasn't all that surprised or shocked at the reasoning behind the villains antics. There are coincidences, then there are those things that just stare a person right in the face before it jumps up and bites you in the ass.
I liked Eleanor the most of all the secondary characters. She's funny, she's got some interesting abilities, and she's quick to humor in the face of serious challenges. I liked how she became aware of Jessa and Finn's connection even before they did and was more than a willing partner in stopping the villain. I also liked Jacabo, and Ma'ali since they came from the Melei like Jessamin. I liked that the romance wasn't in your face or instantaneous. There was antagonism, there were difficult challenges faced by both characters including being from different societies, which eventually lead to the awareness that they belong together.
I find myself chuckling whenever readers, reviewers, and even authors complain about the lack of Diversity in young adult novels. Perhaps if readers picked up stories like Illusions of Fate, or any other book by Kiersten White, they would notice that White tends to use a variety of characters who have their own challenges either by disabilities, skin color, or supernatural abilities. Perhaps they are ignoring the fact that there are characters like Jessamin Olea out there who aren't your stereotypical white, teenaged, female lead characters.
Author - Kiersten White

Title - Illusions of Fate

Published by HarperTeen

Release Date: September 9, 2014

Genre: Young Adult, Fantasy, Romance

Format: E-Book 288 pages